The past year has accelerated a shift towards distributed work and at least for some companies that shift seems to be permanent. So how does a remote-work optimized home look like? It is immediately apparent from a week of Zoom calls with blurry images, muffled sound and poorly blurred or replaced backgrounds that we are still collectively figuring this out. This post is my attempt to move towards a best-of-breed home working setup and my final result is shown below.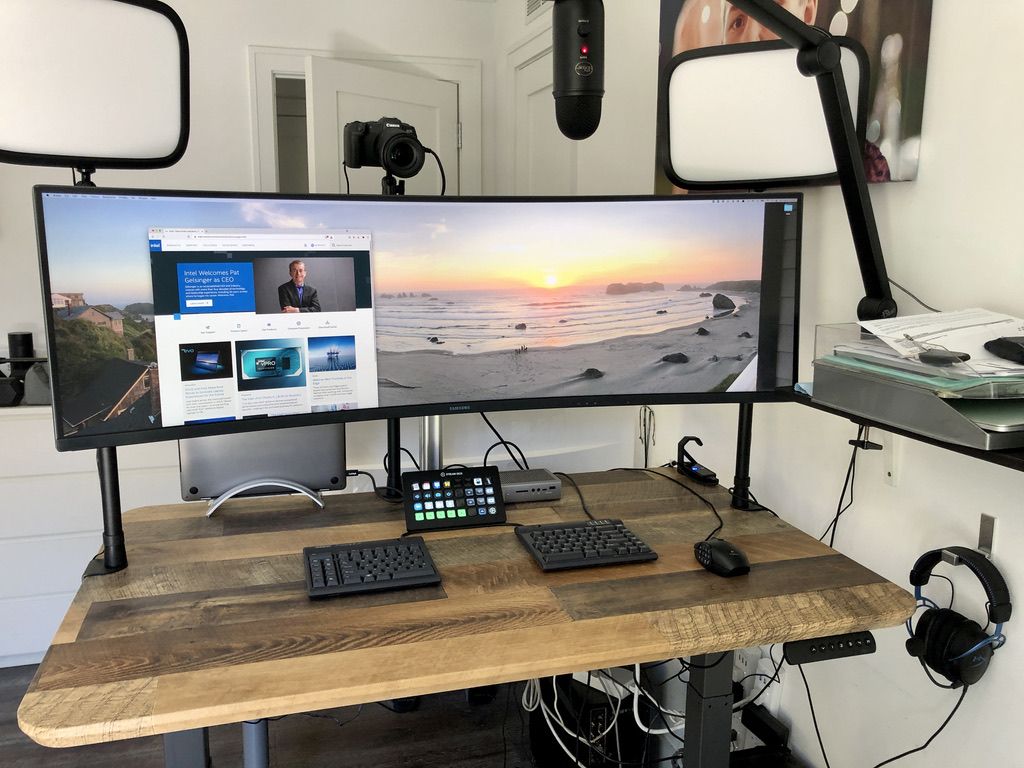 In 2021 we are all Streamers
My #1 activity at work today (often 75% of the time or more) is participating video conferences so this is the use case we need to optimize around. The good news, is that there are professionals that have been doing this for years and have developed a robust technology stack to do this. They are Twitch Streamers. So as a baseline tech setup for the modern technology executive, we will start by looking at a 16 year old streaming Minecraft videos. Because he has 4 million followers and broadcasts to 650k people. And you don't. Technology used by streamers is fairly well documented on sites like Gearhelper. If something is popular with streamers, it's worth a closer look. This is where much the gear on this page comes from.
The next question is budget and the answer is that it depends. The average American spends north of $1000 to commute and north of $2000 if you include time lost. So in theory, we can now invest that into the home office which gives us plenty to room. Some of our kids are in private school. At least here in the bay area investing 10% of what you pay for private school into your kid's home school setup give you a budget that's more than you will ever need. My gear list below is skewed to the high-end of the spectrum.
The Gear
After some research and a few failed experiments, here is what I ended up with.
Towards a best-of-breed WFH setup
Overall I am very happy with this setup. I am adding an automatic window shade behind me (for cases where the sun gets too bright) but other than that there is very little to improve on the hardware.
Much of this setup is shared with a Gaming PC via a USB switch. I had issues with USB switches not being able to handle this many devices, but found that StarTech USB switches work well.
In the future, there is a lot more that can be done in software. Right now, I have no real-time chroma keying (green screen) or other video processing capabilities. With OBS there is a great software available to do this, however right now MS Teams doesn't recognize the virtual web cam created by OBS. Zoom works a lot better in this respect. As the video conferencing vendors hopefully fix these bugs there is a lot more that can be done here.
And last but not least thanks to Nick McKeown who start the full frame camera arms race, Rob Sherwood who was using a pull-down green screen before me and @SwiftOnSecurity for the Stream Deck idea.